PICKS OF LAST WEEK 27/01/16
Want to see more comic coverage? Go to any of our Instagram pages and follow us
JB = @jbdirtstar
Ben Beetham = @benjianthem
Kris = @chrisjwakefield
BEN'S PICKS
Hello Folks
Ok so my pull list this week wasn't too big but I picked up:
 Batman and Robin Eternal #16
 Daredevil #3
 Old Man Logan #1
 Carnage #4
 Hellboy Winter Special one shot
So onto my picks of the week
Pick of the week:
Old man Logan #1
Love wolverine, Love Logan and love the Old man Logan story arc from a few years back so this was a no brainer, Gritty and dark artwork picks up from the old run and what a cool brutal ending with a nice taste at the end! I am loving what they are doing with the all new Wolverine so I hope Logan doesn't return to take up this mantle yet just please Marvel keep it as these two wolverines in the same universe as I am loving both runs so far. Go pick up.
Other Picks:
Hellboy Winter Special One shot
Not read any Hellboy in years so I thought I'd pick up this one shot as a good way to get back into hellboy without jumping in the middle of a story arc or anything. A cool book with 4 mini stories by different artists and writers. All very different with lots of art styles and story's (my personal favourite story was the 1953 Hellboy era one) so I would recommend to anyone who has not read any Hellboy but wanted a taste of what his books are like. And a good price for 4 different story's as well!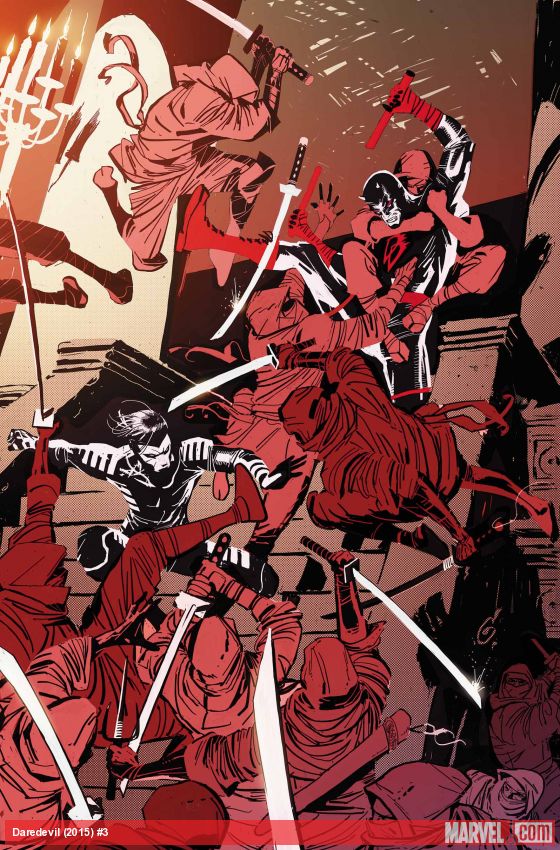 Daredevil #3
Hard for me to say more on this daredevil run than I already have due to #1 and #2 have both been in picks prior, a cool show down between the Hood and Tenfingers with the same amazing artwork, style and story that has been in the past 2 episodes can't wait to see how this will all pan out.
KRIS'S PICKS
My pick of the week is issue two of Deadpool and Cable. This book was so much fun and I am really looking forward to the next issue! being a cable fan the way this story is going is not something that necessarily sits well with me but it is definitely compelling reading and of course the merc with a mouth is on form providing the top quality funnies.
JB'S PICKS
Seeing as both Kris and Ben have picked comics I would have recommended picking up and this months issue of The Spire was a little convoluted for my liking,  I'm just going to recommend this:
Spider-Woman #3
All things considered, I shouldn't like this comic. The bad guys are Skrulls (I've never liked them, I think they're a bit shit) and our hero is trying to avoid action as she's heavily pregnant (At this point in my life that's scarier than the Skrulls). However, with really fantastic writing and an original story, this is really making me smile. She's in danger but she's laughing it off like Matt Damon in the Martian yet she definitely cares about this kid she's going to have, so you're equally as worried as she is. Throw in my main girl Captain Marvel in the mix and the Skrulls being a little more blood thirsty and ruthless than usual and you have a great comic that you really should be picking up.
P.S. The last page of this was as good as any ending to an episode of Breaking Bad